In today's times, having an online presence is a crucial element for the success of most businesses. Owning a professional website has become a standard as potential clients seek information about products, services, and the activities of a specific company.
However, building an effective website is not only about appearance and graphics. The content is also a significant factor that captures attention, provides valuable information, and convinces visitors to take action. In this article, we will discuss the essential content to include on your company's website to effectively reach clients and build a positive image.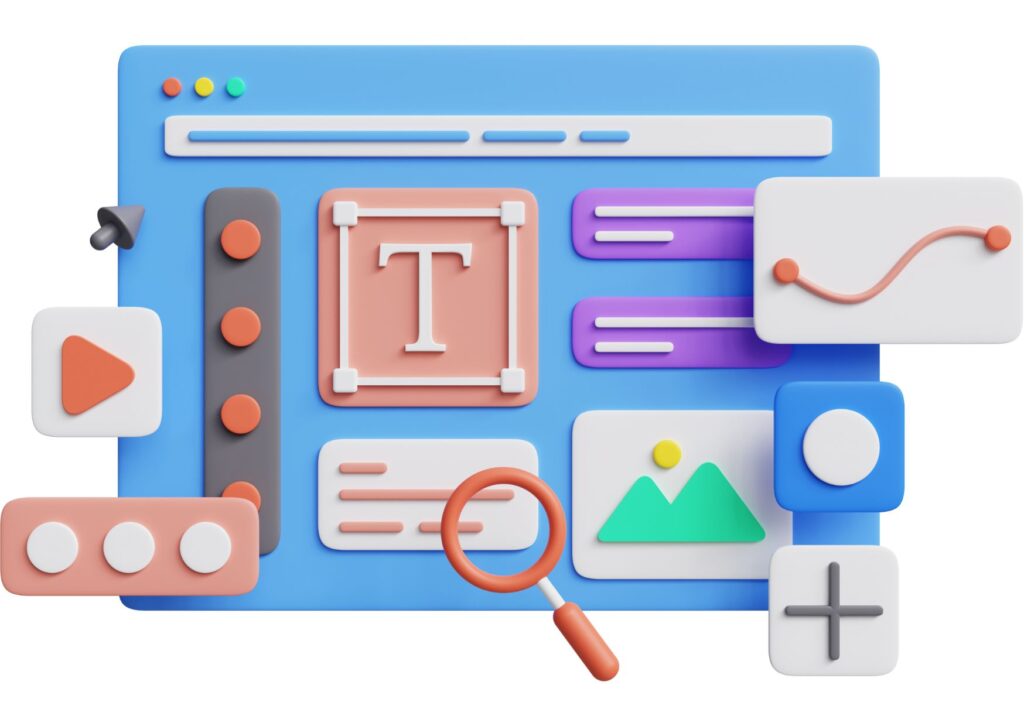 About Us Section
This is one of the most important elements on a website, as it serves as a virtual business card for visitors. In this section, you can share the fascinating history of your company and showcase its unique values, mission, and philosophy. Customers want to feel a connection with your brand, understand what sets you apart in the market, and what goals you are striving to achieve. Therefore, it is valuable to present reliable information about the founders, the team, and their experience. This allows visitors to get to know the people behind the company and realize that every success is the result of a dedicated and competent team.
One of the key elements in the "About Us" section is also team photos. Adding pictures of your staff, both founders and the entire team, helps establish a more personal connection with clients. This shows the human dimension of your company and builds trust when customers see they are dealing with real people and not just an anonymous brand. It is also essential to emphasize the mission and values that drive your company. Customers increasingly pay attention to the ethics and social responsibility of businesses, so presenting the values you uphold can attract new clients who share similar beliefs. This is also an excellent opportunity to demonstrate that your company cares about customers, the environment, or the local community.
By providing reliable, engaging, and well-composed information in the "About Us" section, your company gains credibility and builds lasting relationships with customers. This is where you take the first step towards understanding customers' needs and convincing them they are in good hands. Remember that, in the digital era, your website is the first place where customers look for information about your company. Therefore, it is worth investing time and effort in creating an attractive, professional, and valuable "About Us" section.
Products and Services
Another crucial section on your website is the list of products or services your company offers. This is where customers can learn exactly what you provide and what benefits are associated with using your products or services. Carefully describe each of your offerings, focusing on their unique features, advantages, and how they solve problems or meet customer needs.
Highlight why your products or services are valuable and why it is worth using them. Talk about the possibilities they provide to your customers and the benefits they can achieve through them. Additionally, for products, it is worth including technical information such as specifications, sizes, materials, or available variants.
A well-composed "Products and Services" section allows customers to easily understand your offerings and choose the most appropriate solutions for themselves. This is an excellent way to convince customers to take advantage of your products or services. Therefore, it is worth spending time properly preparing and presenting this section. Remember that this section can influence customers' final decisions, so make sure it is clear, attractive, and convincing.
Contact
This section is an unforgettable element of the website, where customers can easily find ways to contact you. Introduce a contact form, email address, and phone number if you are available by phone. Ensure that the contact details are easily visible on the website, for example, by placing them in the header or footer.
Contact Form: On our website, you will find a convenient contact form that allows for quick and direct communication. Simply fill in your name, email address, subject, and message, and we will strive to respond to your inquiry as soon as possible.
Email Address: If you prefer email communication, you can send a message to

[email protected]

. Our customer service regularly checks the email inbox, ensuring a prompt response.
Phone Number: If you prefer to speak over the phone, call us at +48 123 456 789. Our representatives are available during working hours and are happy to assist with any questions or support you may need.
Visibility of Contact Details: It is essential that contact details are easily visible on the website. Therefore, we have placed them in the top navigation bar and the footer, making them visible on every page of the website. You can also find them on a dedicated "Contact" subpage, facilitating quick access.
We recommend placing contact details in a way that attracts the attention of users, for example, using clear icons or different colors that distinguish them from other elements on the page. This allows your customers to easily get in touch with you, which, in turn, contributes to positive user experiences and increases trust in your company. Additionally, don't forget to regularly monitor your email inbox and phone to quickly respond to any inquiries from customers.
Customer Reviews
Positive reviews and references from satisfied customers are incredibly important for building trust. Include a customer review section on your website with comments, testimonials, or photos of happy customers. This is an excellent way to show that your company is highly regarded and valued by your clients.
Comments and Reviews: We feature authentic comments and reviews from our customers who share their positive experiences with our company. We strive to present a variety of opinions to make it easier for potential clients to identify with their needs and expectations.
Photos of Satisfied Customers: We often add photos of satisfied customers who have given their consent for their images to be published. This is a great way to demonstrate the authenticity of our references and show that the satisfaction of our customers is not just words but a reality.
We take care to present reviews in a clear and visually appealing manner. We can also use various presentation formats, such as stars, ratings, or comments in highlighted blocks, to facilitate reading. Additionally, it is essential to regularly update this section by adding new reviews and testimonials as our customers share their positive experiences. This demonstrates that our company is actively engaged in caring for our customers, and their opinions matter to us.
Blog
The blog section is an excellent tool for providing valuable content to customers. Regularly publishing articles on industry-related topics, tips, advice, or informative pieces not only helps build knowledge and trust but also impacts the positioning of your website in search engine results.
To effectively utilize the blog section, it is essential to maintain regularity in publishing. Plan the publication of articles with appropriate lead time and strive to provide content that aligns with the interests of your target audience. Utilize various content formats, such as infographics, videos, or interviews, to make the blog even more diverse and engaging for your readers. Taking care of a valuable and attractive blog will increase customer loyalty and attract new visitors who could potentially become your clients.
FAQ
Include a "Frequently Asked Questions" section on your website, where you address questions that frequently arise among customers. This helps save time for both you and visitors while also increasing trust. It is also an excellent opportunity to showcase your knowledge and expertise in the industry, which can encourage potential customers to take advantage of your services or products.
Privacy Policy and Terms
Although they may seem insignificant, the Privacy Policy and Terms of Use are essential from a legal standpoint. Ensure that your website contains clearly worded Privacy Policy and Terms of Use to comply with legal requirements and build trust and safety for users. Remember to keep them transparent and up-to-date to meet legal requirements and customer expectations.
CTA
CTA (Call To Action), such as buttons or links, encourages visitors to take specific actions, such as "Order Now," "Contact Us," "Subscribe to our Newsletter," etc. Make sure your CTAs are visible, well-worded, and enticing.
Remember that CTAs are a crucial element of your website, translating into user activity and achieving business goals. Properly worded, visible, and distinct CTAs will contribute to the effectiveness of your website and encourage visitors to take actions that will lead to the success of your online business.
Summary
Creating an effective website is not just about aesthetics but also about providing relevant content. A well-designed website rich in valuable and thoughtful content allows you to effectively reach customers, build trust, and persuade them to take action. Remember that your website is the online face of your company, so it is worth investing time and effort in creating essential and attractive content that will capture the attention of visitors and benefit your business.
Let's Build Something Great
Ready to discuss your project or potential partnership?