Modern business increasingly focuses on gaining customer trust and building long-lasting relationships. In this context, company websites serve not only as business cards but also as powerful tools for engaging and attracting customers. The essence of success lies not only in the aesthetic appearance but, above all, in valuable and convincing content that will engage visitors. In this article, we will explore key content elements that strengthen your company website and effectively engage customers.
Homepage
A well-developed homepage serves as your company's showcase in the online world. It is the first place visitors see, so it should perfectly reflect your brand identity and showcase the most important products or services offered by your company. The main goal of the homepage is to clearly communicate the value your company provides to customers and effectively encourage them to explore further.
Attractive graphics play a crucial role in capturing users' attention. Use professional and visually appealing images that represent your brand and showcase products or services in the best light. Well-chosen graphics can pique visitors' interest and prompt them to continue browsing your website.
Headings should be clear, concise, and effectively outline the content on the page. Short and straightforward headings make it easier for users to find the information they are interested in, enhancing the overall user experience.
An invaluable element is the "call-to-action" (CTA), urging visitors to take specific actions, such as signing up for a newsletter, taking advantage of a promotional offer, or contacting the company. An effective CTA should be visually appealing, unambiguous, and focused on the benefits users will gain by taking action. Examples include buttons like "Buy Now," "Register Now," "Watch the Video," and more. Placing CTAs strategically on the page, such as at the top or near important sections, can increase their effectiveness.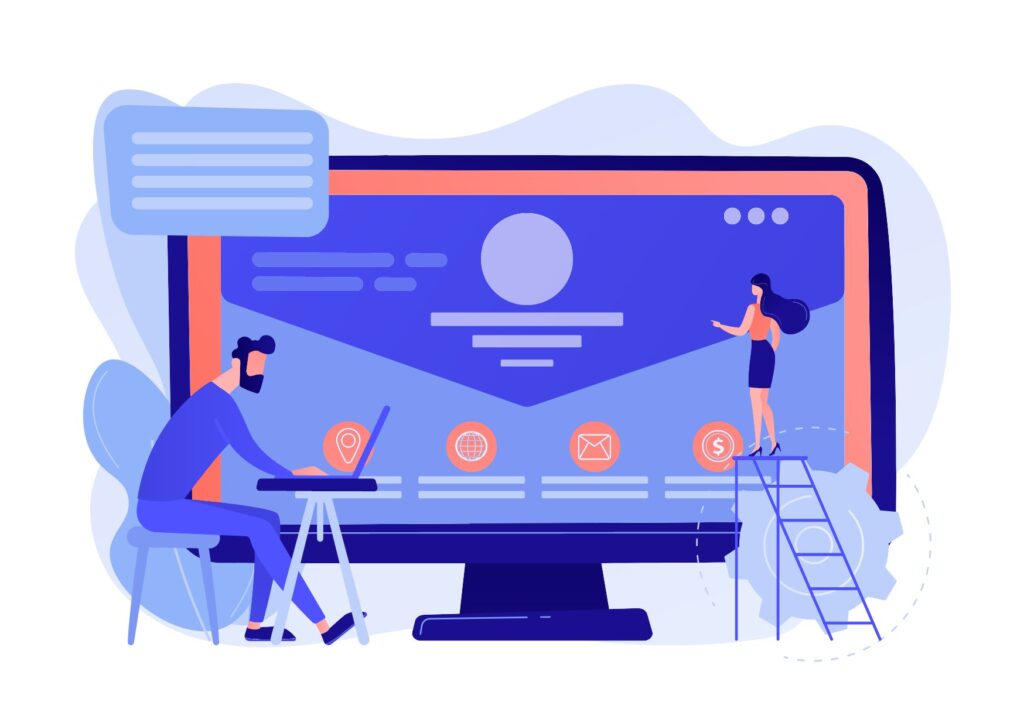 Valuable Content
Valuable content forms the foundation of an effective company website. Publishing materials that are useful and interesting to your target audience can bring numerous benefits. Blogs, guides, articles, and e-books are excellent ways to share knowledge, provide expert advice, and build trust as an authority in your industry.
By expanding your website's blog, you can provide valuable information related to your industry, address customer problems, showcase the latest trends, and share expert tips. Regularly publishing valuable content helps maintain visitors' interest and attracts new users seeking specific information.
Guides, articles, and e-books can be used to delve deeper into topics related to your industry. By sharing content-rich materials that provide specific solutions and tips, you can establish a reputation as a credible expert in your field. This, in turn, can transform visitors into loyal customers and increase their trust in your brand.
Product/Service Descriptions
If you run an online store, well-crafted product descriptions are crucial. Provide detailed and clear information about each product, highlighting its benefits and advantages for customers. Well-selected high-quality images are also essential, as they influence customers' perception of the products and impact their purchasing decisions.
Customer References and Reviews
Positive customer reviews and references are excellent marketing tools. Include customer reviews on your company website that emphasize the quality of your services and customer satisfaction. This convinces new customers of your company's reliability and credibility, enhancing their trust in the products or services you offer.
Multimedia Content
Videos, animations, and moving images can enrich your company website and capture users' attention. By sharing interesting and engaging multimedia materials, you can further attract visitors' attention and interest, positively influencing the time they spend on your site and the effectiveness of information delivery.
FAQ (Frequently Asked Questions)
Provide frequently asked questions and answers that help customers find the information they need without contacting customer support. A well-designed FAQ section can significantly improve the user experience on your website, giving visitors quick access to essential information and assisting them in making purchase decisions.
Contact Form and Contact Information
Ensure that your company website includes a clear contact form and contact details such as a phone number or email address. This facilitates communication between customers and your company in case of questions or doubts, positively impacting customer relations and building trust in your brand.
Interactive Elements
Interactive elements are essential tools for engaging users on your company website. By adding interactive features such as quizzes, calculators, or simulations, you can create an engaging experience that captures users' attention and encourages them to interact with your site. Through interactive elements, users spend more time on your website, potentially increasing conversion rates. However, it is essential to ensure that interactive elements are well-designed and user-friendly. Complicated or unintuitive interactions can discourage users, so simplicity and usability are crucial in implementing these elements.
In summary, well-developed and diverse content is a key element in strengthening your company website. By providing valuable information, compelling customer reviews, captivating multimedia materials, and interactive elements, you can engage visitors, build trust in your brand, and encourage them to explore your offerings further. Altogether, this contributes to increasing the effectiveness of your company website and achieving success in the virtual business world.
Let's Build Something Great
Ready to discuss your project or potential partnership?