In the competitive world of web design, having an effective project portfolio is crucial for success. Your portfolio serves as a showcase of your skills, creativity, and professionalism. In this article, we will not only discuss why a project portfolio is important but also how to create and manage it effectively to attract clients and potential employers.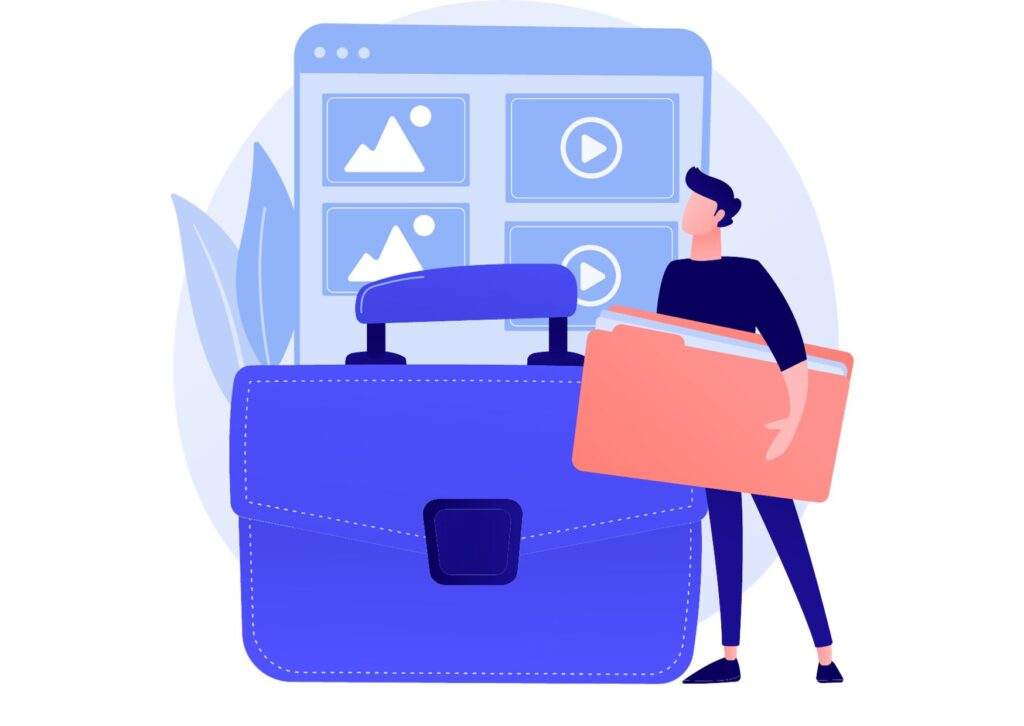 Why is a project portfolio a key tool for web designers?
A project portfolio is a visual representation of your work as a web designer. It's the place where you can demonstrate your skills, creativity, and design style. For potential clients or employers, it's the primary source of information about your professionalism and competence. In the web design industry, where competition is fierce, potential clients often make decisions based on your portfolio. The more impressive and diverse projects they find in your portfolio, the greater the chances of capturing their attention.
What are the benefits of having an impressive portfolio?
Building trust. A portfolio is a trust-building tool. It shows clients that you are an experienced professional capable of executing their projects.
Proof of skills. A good portfolio is evidence of your skills. Potential clients or employers can assess the quality of your work based on completed projects.
First impression. Your portfolio is often the first thing potential clients see. The more impressive your portfolio, the better your chances of convincing them of your capabilities.
Effective marketing tool. A portfolio can be used as a marketing tool. You can share a link to your portfolio on your website, social media, and in your CV.
Success stories based on effective project portfolios
Acquiring new clients. Many web designers claim that it was their impressive portfolio that attracted their first clients. Positive references from these clients can lead to more projects.
Employment opportunities. For freelancers, having an extensive portfolio can mean getting hired by renowned interactive agencies or IT companies.
Building reputation. A strong portfolio can contribute to building your reputation as a web designer. This can result in increased interest in your work and higher project rates.
Creating a project portfolio
Now that we understand the importance of a project portfolio, let's move on to the essential steps to create one.
Determine your target audience and tailor content to their needs. Understanding who will view your portfolio is crucial. Tailor your content, projects, and style to your target audience's preferences and expectations.
Stages of portfolio design: from concept to execution. Plan the concept of your portfolio. What projects do you want to include, and what aesthetics do you want to present? Then begin the design process, carefully selecting graphics, content, and layout.
Effective content gathering and project descriptions. Choose projects for your portfolio carefully. Each project should be described clearly and comprehensibly. Project descriptions should include information about project goals, technologies used, and your role in its execution. Remember that potential clients or employers want to understand how your project solves problems and benefits the client.
Testing and publishing the completed portfolio. When your portfolio is ready, test it on various devices and web browsers to ensure it looks and functions correctly. Check that all links and buttons work as expected. Then publish your portfolio on your chosen hosting platform.
Best practices for presenting your portfolio
Creating an impressive portfolio is just part of the equation. The next step is its effective presentation.
Maintain a professional tone and style in portfolio content. Ensure that the content in your portfolio is written in a professional tone. Avoid colloquial language and focus on presenting your projects appropriately for the industry.
Conciseness. Focus on key information and maintain clarity. Avoid unnecessary details and information that is not relevant to project evaluation. Concentrate on essential information.
Clear and understandable language to attract clients. Clear and understandable language is key to attracting potential clients. Avoid complex jargon and explain technical aspects of projects in an accessible way.
Highlighting your strengths and best projects. Showcase your most important projects and skills. Highlight what sets you apart from the competition and why it's worth working with you.
Honesty in presenting your skills and experience. Be honest in presenting your skills and experience. Don't exaggerate, but also don't downplay your achievements. Authenticity is appreciated by clients.
Effective portfolio management
Creating a portfolio is an ongoing process. To maintain its effectiveness, consider the following:
Update your portfolio as you gain new projects and skills. When you acquire new projects or learn new skills, add them to your portfolio. Regular updates show that you are active and evolving as a professional.
Consider different presentation formats for projects. In addition to the traditional online portfolio, consider various presentation formats for projects, such as printed portfolios, videos, or multimedia presentations. This can attract different client groups.
Monitor statistics and collect feedback from clients. Use tools to monitor visitor statistics on your portfolio. This will help you understand which projects attract the most attention. It's also valuable to collect feedback from clients to learn how you can improve.
Focus on building personal branding through your project portfolio. Your project portfolio is not only a tool for showcasing your work but also for building your personal brand. Strive to create a consistent image and message around your work.
In conclusion, a project portfolio is a crucial tool for web designers, allowing them to showcase their skills and experience. Whether you're a web designer, freelance professional, or someone seeking employment in the IT industry, it's worth dedicating time to create an impressive portfolio and present it effectively. It's an investment in your career development and attracting new clients or employers.
Let's Build Something Great
Ready to discuss your project or potential partnership?