The Astratic theme is a ready-made website builder. It has everything you need to build a business website or blog. Here you will find a clear step-by-step guide walks you through how to download, install and activate your brand new Astratic theme. In this article, you will get instructions on how the license key works.
After finalizing your theme order, you will receive a purchase confirmation with an order summary and downloadable file. You will then receive a key.
What is a License Key
It is a unique string of characters created individually for each Astratic installation. Activating the license key allows you to use the full capabilities of the theme. Without active key license you will lost the access to current updates. This may cause technical problems on your website in the future. It is worth emphasizing that one key is prepared for one domain. You can't install the theme for multiple domains (websites).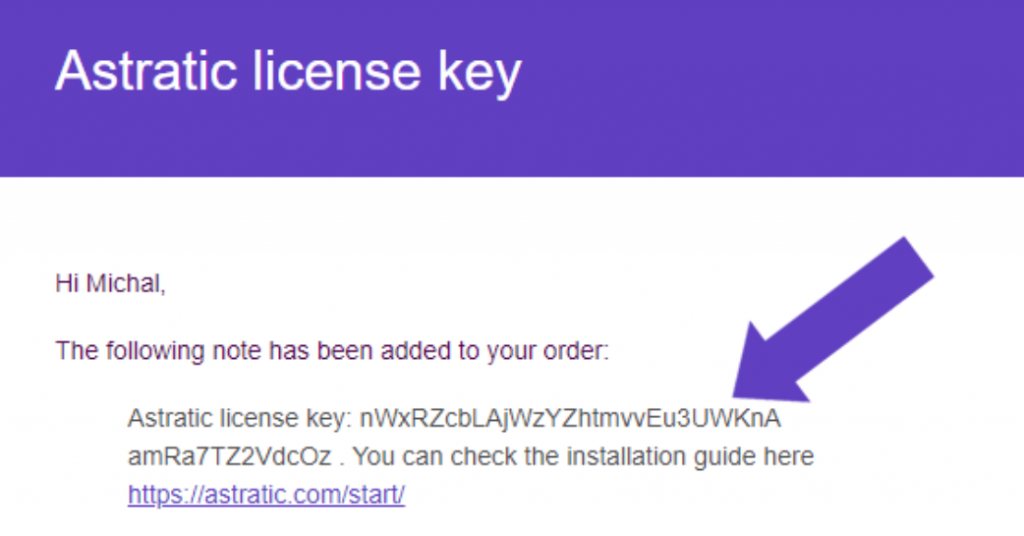 No License Key needed for websites in the local environment
The local environment can be run in many ways with the help of multiple programs. Local sites are typically used for testing and development or staging and are only seen by the site's owner and/or developer. If you run the website in the local environment, the theme will not require key activation. This means that the key allows you to use the local version without losing activation for the online domain.
How to update or deactivate a domain within a licence key
If you want to change the domain for a given license key and you have already activated it for another, please contact us: [email protected]
Have any questions? It there anything we can help? Write about it in the comments below ????